Audubon Adventure Pentathlon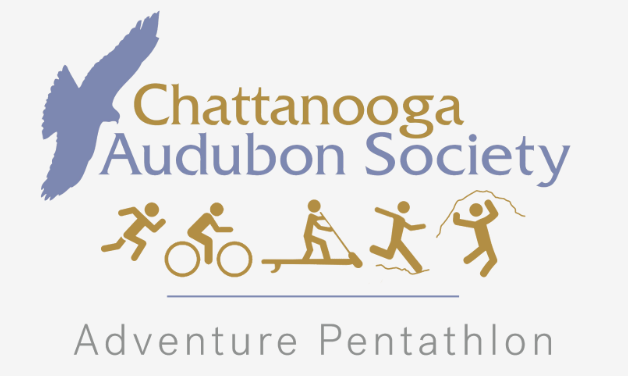 This race takes place at the gorgeous Coolidge riverside park in downtown Chattagooga. It is made up of 5 separate outdoor sports, as follows: Road run 1.7 miles to Stringers ridge nature park, mountain bike 3.9 mile loop back to the trail head, road run 1.7 miles back to Coolidge, paddle (any craft) 3.4 mile loop ending at Maclellan island, trail run .7 mile loop, paddle to Coolidge .6 miles. The clock stops at the shore. Top rope one of the 4 routes on the Walnut bridge climbing wall. The climbing routes are rated between 5.6 and 5.7. This event is open to anyone traveling at about any speed but there will be a 1.5 hour cutoff at the end of the run-bike-run section. That averages to 16 min per mile for the 3.4 mile run and 10 min per mile for the 3.9 mile bike. The race will be followed by post race snacks, beverages and a coupon for free admission to Audubon Acres among other sponsor SWAG.
All of the proceeds will benefit these two great, local non-profit organizations:
Chattanooga Audubon Society – Educate and promote an understanding of the responsibility to preserve and protect our environmental, cultural, and historical resources through programming and stewardship.
Wild Trails – Encourage and promote a healthy and active lifestyle through trail running, hiking, paddling and other forms of outdoor recreation and advocate to protect and preserve natural spaces used for such activities.
Membership to Wild Trails and/or Audubon Acres will gain you a 10% discount. Click HERE for Wild Trails Membership details and HERE for Audubon Acres Membership details.

Date: Saturday, April 20, 2019
Cost:
$65 thru 3/18 includes tee shirt*
$75 3/19 thru 4/18 but no tee shirt*
$85 on race day but no tee shirt*
* Tee Shirts: We will place an optional tee order after the race for those who would like to order a tee. (Cost will be $15 local pickup/$22 if mailed)
Start Time: 10am Registration/Staging Opens; 12pm (Noon) Race Starts
Location: Start/Finish will be on the lawn at the Kayak launch at Coolidge Park – adjacent to Walnut Street Bridge climbing wall
Click HERE for a link to the full course map
Click HERE for a link to the bike map
Please note that we have changed our race fee policy. We no longer have a price increase one month out. In the past the price increase was to encourage runners to sign up early in order to gain a more accurate size and count for ordering race shirts. Now, there is no price bump. However, you will not get a shirt on race day if you register after the specified date for your distance. We will likely have extras for purchase on race day and we will place another shirt order after the race. Click the race details above for more info.