By Sam Lennon
I had only ever heard that Chattanooga Creek was a toxic wasteland, so I was expecting the worst when Randy invited me out for a paddle. But to my surprise, there were no mutant waterfowl or two-headed fish. Instead, we paddled along a peaceful creek. For an urban creek, it wasn't half bad, until I turned a corner to find heaps of trash caught in a log jam. We were scoping out the creek for the cleanup later that day, and we had found our trouble spots. Rather than floating downstream, the litter congregated to form trash islands that dotted the creek.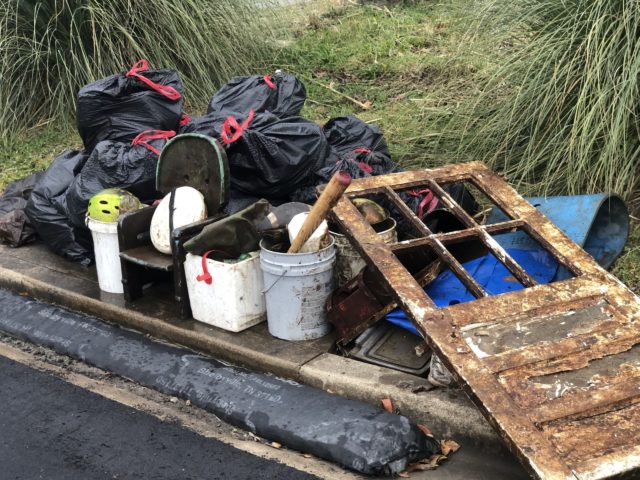 We made our way past the trash heaps to see how far upstream we could get. Randy wanted to at least get to the Market Street bridge, but before we got there, we found an impassible log jam. We would come back with hand saws and more manpower.
Chattanooga Creek is located just south of downtown, originating on the western slopes of Lookout Mountain. It runs about 26 miles until it reaches the Tennessee River. It twists and turns through residential areas, industry, and pockets of wilderness. Chattanoogans have not been kind to this creek. There is a long history of contamination which lead to the creek landing on the EPA's National Priorities Superfund in 1995.
Many pollutants have been dumped into the creek from various industrial sources. One of the biggest culprits is the Tennessee Products Corporation. Their coke plant dumped tons of coal tar and contaminated waste into the creek. The coke they produced was neither the cola nor the powder. Coke is a product derived from coal that is used for various industrial purposes, namely iron smelting. Various foundries were also responsible for heavy metals pollutants; lead contamination on residential properties near the creek was the main threat.
The EPA has worked hard to nullify the effects of the contamination. They removed 108,000 tons of contaminated sediment from the creek floor which included coal and coal tar. They also capped the creek with a protective barrier called AquaBlok® which serves as a barrier to keep substances that have leached into the ground beneath the creek from contaminating the creek again. (If you want a more scientific report, check out this five-year review of the creek.) The EPA's efforts ended in 2019 when they deemed the creek no longer a hazard to the residents or the workers in the surrounding area. And with the creek now safe, Wild Trails is working to keep it clean.
The creek is beautiful despite the trash. I was surprised at just how serene the creek felt at times even with its proximity to downtown. Blue herons are returning to the creek and the water is looking better all the time. Once the trash is removed from the creek it will be an ideal spot for a paddle. Heck, it's a great spot for recreation now; it just needs a continual facelift, and that's where you come in. Every month Wild Trails volunteers band together to remove boatloads of trash. It is more fun than you would think. We all hop on paddle boards or in a canoe and gather up the trash, which is mostly plastic, nothing too gross. You really can't beat the feeling of cleaning up a waterway on a calm, sunny day. The little trash islands are quickly reduced to nothing with a few helping hands, and it is so satisfying.
Unfortunately, the trash keeps adding up, and it doesn't look like it will stop any time soon. Until people are aware that their litter ends up in otherwise scenic waterways, this maintenance will be required. So, let's work to be more mindful of what we throw away and for God's sake don't litter.
When Randy and I returned later that afternoon, we brought 8 or so volunteers with us. A few of us made quick work of the log jam that stopped us before, and we carried on finding more trash islands. One of my favorite parts of the creek cleanups is all the treasures that we find. On that trip alone we found a bass drum, a golf club, countless soccer balls, a vintage television, and a beautiful black walnut slab which will soon make a fine coffee table. 
Creek cleanups aren't just about trash, they're also about celebrating what we've accomplished. Thanks to our sponsors we had a great little afterparty with Oddstory beer and Crust pizza. We also received a 10'x10' floating private island from Bote which made the cleanup even more fun. If you are interested in helping, join us the first Sunday afternoon of each month. We'll have plenty of paddle boards to go around and even more pizza. Check out the link for more information and to sign up. And finally, thank you to all the volunteers who continue to join us. Thanks to your efforts, creeks are getting cleaner and turtles, herons, and little baby ducks are loving it.