Chattanooga's Mountain Biking Scene Is Going Downhill Fast
Riders speed across freshly formed berms with only an index finger lightly placed on the brake lever. They snake down the trail with tremendous speed. The bikes are practically horizontal as they round each sweeping switchback. The leader of the pack turns the corner to face a sharply angled ramp ahead. The black rubber leaves the dirt below, and bike and rider are suspended in air. For a moment, it's still. The rider has a second to breathe before his front tire hits earth, and gravity propels the bike further down the twisting terrain of the mountainside.
This is just a taste of what's to come at Chattanooga's newest mountain biking destination. Walden's Ridge Park is soon to become the next great addition to Chattanooga's quickly expanding mountain biking scene. And it's not just jump tracks for expert bikers; the property is littered with trails of varying difficulty for varying disciplines. The park encompasses 200-acres of prime real estate for biking, hiking, trail running, and bouldering. Only ten minutes from downtown, Walden's Ridge Park offers the perfect afterwork lap around the track. As a climber, I'm particularly excited about the two dozen boulders that will become available to the public. You can hardly throw a stone in Chattanooga without hitting a climber, and this new climbing area will help to accommodate the climbing crowd.
This project is a testament to the strength and coordination of our local outdoor organizations. This project would not be possible without the network of nonprofits that band together to make Chattanooga a beautiful and adventure-packed place to call home. A big thanks is due to the North Chickamauga Creek Conservancy (NCCC), SORBA Chattanooga, The Land Trust for Tennessee, the Southeastern Climbers Coalition, and Hamilton County Parks and Recreation. Each organization played a unique and integral role in the process of the park's development.
The park began to materialize nearly six years ago when members from the NCCC and The Land Trust for Tennessee met on the steep, wooded property which the NCCC had received as a donation. This parcel of land on the side of Signal Mountain was designated to become a county park that would provide a space for a whole host of activities. From there, the NCCC managed the project and coordinated with other nonprofit organizations which specialized in different areas of sport and conservation.
The Land Trust of Tennessee facilitated a permanent conservation easement that essentially secures the future of this park as protected land. They also are responsible for a considerable percentage of the funds raised and have handled the transfer of the park's ownership to Hamilton County. The Hamilton County Parks and Recreation department will be responsible for building parking lots and restrooms and will become the manager of the park after its development. The SCC is working to flesh out the bouldering areas and provide easy access to these quality climbs, and SORBA is managing the mountain bike trail development.
When SORBA Chattanooga joined the project, they recognized the potential to create something that has been missing in our singletrack landscape. Chattanooga's mountain biking scene had been growing more rapidly than ever. In 2004, there were only 7 miles of accessible mountain biking trail in Chattanooga. Thanks to SORBA, and other volunteer organizations, we now have around 130 miles of mountain biking trails in the area. But even with all these new trails, we are still behind the cutting edge of the sport. We almost exclusively have cross-country trail and we are missing out because of it.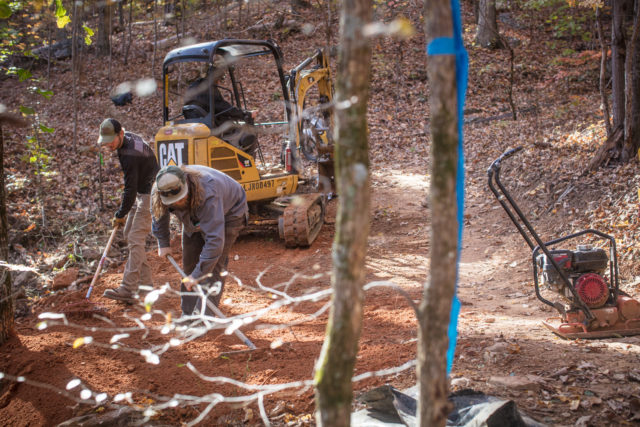 Now, that is in no way a knock on cross-country trail. It's only to say there is a lack of variety in the mountain biking available here. If we want to keep up with this quickly advancing sport, downhill trail is something we need to carve out a space for. There is already a demand for this kind of park here, and if you want anything similar, you have to make a trip up to Knoxville. This park will not only fill that local demand for advanced downhill mountain biking, but it will also serve as an attraction that will draw mountain bikers from all over.
What excites me the most is how Walden's Ridge will develop Chattanooga's mountain bikers. Think of the next generation who will grow up with this park as their backyard; they will be whipping through the air before they can drive. Chattanooga is already known for its world-class climbing and miles of scenic hiking, but this park will put Chattanooga well on its way to having world-class mountain biking.
The park is set to open this year. There are still some details to be hammered out and some infrastructure to be built, but steady progress is being made. Walden's Ridge Park would not be possible without the collaboration of our local nonprofits. Thanks to the awesome community of outdoor enthusiasts and caretakers, Chattanooga will be home to a truly special park.
If you are interested in helping or would like to learn more visit https://www.waldensridgepark.com/. On their website, there are links to support the project through donations, or you can check out the upcoming volunteer opportunities. And once the park opens, be on the lookout for a Wild Trails race. Our director, Randy Whorton, wants to organize a race that runs straight up a steep downhill track. He said, "I want people to have to run up this thing on all fours!"